Servicing all of the Areas in the San Diego County & Surrounding Cities
Simply, the best. Blending Overhead Door's trusted technology with Amish craftsmanship helps create a truly hand-made custom door. With unique styles, Signature Carriage Wood Garage Doors combines old-world design with state-of-the-art garage door to replicate beautiful, period-style doors that compliment both old and new construction.
Signature Carriage Wood Garage Doors
Wood Doors are not only beautiful in itself, but also for what it can become. In the hands of our Amish craftsmen, premium wood is transformed into our finest Carriage Wood Collection– a distinctive and lasting addition to the value and architectural style of your home.
Built Better from the Inside Out!
With over 17 elegant wood styles to choose from, we can match the perfect style to fit virtually any home. We take pride in our work and the customers we serve, each wood garage door is specially crafted and finished to meet any and all needs of our customers.
Built better from the inside out
Multiple designs and options let you choose the perfect complement to your home with our style, window and glass options.
World class door with the best species of wood available.
Polystyrene insulation can diminish street noise and provide quieter door operation. R-value* of 4.75 available for select models.
Our WindStorm™ wind load-rated system is available on select products to meet regulations for a variety of wind speeds.
Simply sophisticated, the Parson Collection's classic solid wood designs are the essence of luxury. Doors provided in unfinished, paint-grade or stain-grade wood.
Ponderosa Collection doors showcase rich details and rugged character. Their striking lines evoke the spirit of American charm. Doors provided in unfinished, paint-grade or stain-grade wood.
Capturing the romantic lines and distinguished flare of old-world estates, Villa Madre Collection doors exemplify elegance and style. Doors provided in unfinished, paint-grade or stain-grade wood
Door Construction: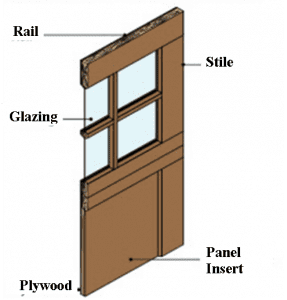 570 Series Standard Construction
Paint or stain grade, insulation optional.
Up to 15/8" thick rail and stile construction with panel inserts.
Custom Wood Garage Doors:
Unique in every way, our custom wood doors bring your dreams to life to create a one of a kind masterpiece. Contact your Overhead Door Company of Southern California for information
Share your custom design with us and we will make your home a work of art.
Made by the hands of expert craftsmen.
An array of choices of wood, paint or stain grades, window and hardware options to choose from, wood sectional garage doors can be manufactured to nearly any design imaginable!
Signature® Carriage Collection
If you need help selecting a garage door, opener, have product questions or would like to request a quote or schedule a garage door repair service. Contact us today +1 (858) 547-3600 or send us an email on the form below.